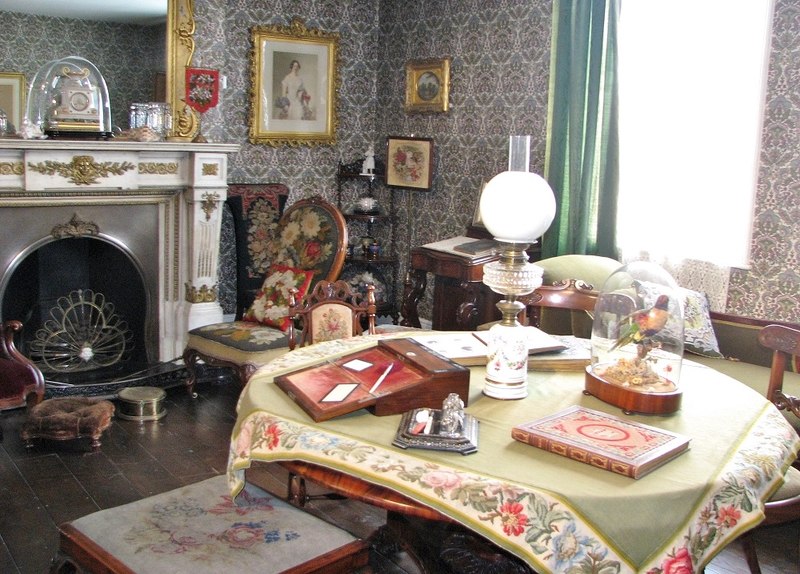 This opening begins with an awkward conversation in the front parlour. How effectively does it start the story?
Title: The Truth about Jane
Wordcount: 78290
Genre: Historical
Language: British English
Synopsis: JANE and AGNES have built a reputation over forty years for providing the best women's lodgings in Belfast. Now their way of life is under threat from DRAKE JONES, who blackmails them. But Jane and Agnes will do anything to protect their secret and they plan and execute his murder.
Text: Mrs Jane Best paused in front of the portrait of her late husband Charles and took a deep breath. She smoothed her skirt over her slim figure and pinched her cheeks to add some colour to her pale complexion. Her black widows' garb was softened by the addition of a ruffle of white lace over the high neckline and at her wrists. Pulling back her shoulders, she held her head high. Now that she was well past sixty, she had no wish to turn into one of those wizened old women with hunched shoulders and faltering steps. With an affectionate nod to Charles, she turned, opened the dining room door and summoned Melissa with her index finger. Melissa's terrified expression strengthened Mrs Best's resolve as the two women made their way to the parlour.
"Good afternoon," Mrs Best greeted Mr Jones, the grandfather of her latest young lady boarder. The room was in the shade of the afternoon sun and a faint breeze fluttered through the open windows bringing the hum of bees and the sweet scent of roses in their last flush of summer.
Mr Jones rose to greet her, his cap in hand. Melissa followed behind Mrs Best and stood partially hidden as she nodded her greeting. She kept her hands clasped in front of her and glanced upwards for a second before fixing her eyes on a spot on the floor in front of Mr Jones. A flash of recognition momentarily unsettled Mrs Best and she felt a thud in her chest at the snapshot in her head of a younger Drake Jones. He hadn't changed much. The older versions face was drawn and weather-beaten, his hair scarce and his skin pulled tight over his skeletal frame. She fixed her public smile in place.
"I am very pleased to meet you, Mr Jones. Please, sit. Can I offer you some tea?"
"Thank you, yes, a cup of tea would be very nice indeed," he replied. He looked puzzled and he appeared to study her face, his back ramrod straight as he perched on the edge of the sofa.
Mrs Best began to feel uncomfortable under his steady gaze and shifted in her seat. She struggled to make conversation and found her gaze resting on the portraits of the Best family adorning the walls. The silence was interrupted by a knock on the door heralding the arrival of the tea trolley and she rose to serve her guests. Small talk was exchanged over tea and sweet cake before Mr Jones set his empty teacup back on the trolley.
"I beg your pardon Mam, but you seem familiar to me. Have we met before?"
"I don't think so Mr Jones, I am sure I would remember you. But you may see some family resemblance in me. Can I ask if you served in the military at some stage?"
"Why yes, I served with the Connaught Rangers."
"Well then, that may explain it. My brother served with the Rangers, as did my husband."
"I remember Charles Best but your brother?"
Mrs Best handed him the china cup, "James Langton."
"Of course, I see the resemblance now. I didn't know him well, and it was a very long time ago, but I do remember him. I am so sorry, Mam, pardon my intrusion."
"Not at all, Mr Jones, time is a great healer. I am fortunate to have this house. It keeps me busy every day. Now, if I may Mr Jones, can I ask what brings you here?"
"Why Melissa, of course, Mrs Best. While I must thank you for providing her with such fine lodgings, my granddaughter's place is at home, with her brother and me."
Mrs Best watched those beady eyes flick towards Melissa who remained silent, tension oozing out of every muscle in her tiny frame. Her hands shook where they lay clasped in her lap. Mrs Best took a breath and went over the speech rehearsed in her head. Keeping a firm but pleasant smile on her face she looked at Mr Jones.
"Melissa is very happy here, Mr Jones. She has made friends and works nearby. Surely it is more convenient for her to remain at Riverdale House?"
"Convenient for whom?" he hesitated, his forehead creased in puzzlement, "This is a family matter, Mrs Best, …and I don't mean to be rude, but it really is none of your business. Melissa is my granddaughter and I want her to come home…with me…now."
"I see," Mrs Best gave a tight smile, "but Mr Jones, as I said, Melissa has no wish to return to your home. Melissa has settled in very nicely and we are very happy to have her here. I can assure you we will take great care of your granddaughter. Now, if you will excuse me? I have menus to prepare."
"My granddaughter is leaving with me."
As Mr Jones stood, he pulled his shoulders back and jutted out his chin. His puny chest poked forward, and his eyes glittered with a malice Mrs Best recognised. Mrs Best raised herself slowly to her full height and glared at Mr Jones. Her icy tone silenced him.
"Melissa is staying here, Mr Jones. She is of an age where she can decide where she wants to live, and Melissa wants to live in Riverdale House. Good day sir."
Mr Jones stood, his mouth opening and closing like a fish squirming on a hook. Flashing a look of pure hatred at Mrs Best he shook his closed fist at Melissa and roared at her,
"You will regret this, my girl," saliva spitting out and onto the floor.
Mrs Best strode to the parlour door.
"Good day sir."
Mrs Williams was waiting in the hall and escorted Mr Jones out the front door. Mrs Best stood at the parlour door until she heard the bang of the heavy front door closing after Mr Jones, and the peace of Riverdale House settle again.
Editorial comment: I guess this is where the problems with Mr Jones begin? In that case, it seems like a good place to being your story: conflict and tension, and the setting up of a clearly defined problem that Mrs Best and the crew at Riverdale House are going to have to deal with. The writing is crisp and pretty much error free, a few punctuations issues aside.
If I had a criticism, it would be that the writing is a bit "flabby". Like many of us at this time of year, it could do with getting out on the running track, or taking a long walk on the moors with the dogs and losing a few syllables here and there. Examples of phrases that could be cut to make the prose a lot leaner are "the grandfather of her latest young lady boarder". We find out imminently the relationship between Mr Jones and Melissa – he tells us himself – so there's no need to preempt that information with a bland "telling" statement. Likewise, Mrs Best talks in conversation of her late husband Charles, so why tell us this information at the outset when you show it perfectly well and organically in the course of the scene?
The conversation itself is a bit awkward. Large tracts of it go unreported and there appear to be long periods when the two protagonists are sitting in silence. There's also a long digression, whose significance is unclear at this very outset of the story, about Mrs Best's brother and husband fighting in the same regiment as Jones. Since you've made it the focus of the start of the book, this opening conversation needs to be spot on. Dialogue in it should only exist to either further the plot, or provide character development. It provides a golden opportunity to do both, but seems to fall a bit short, as if you've set up a perfect start to the book, but then failed to deliver on its promise. For example, even if the two of them are sitting in silence, what are they thinking? What is Mrs Best thinking as she looks at the pictures of her ancestors in silence? Why does she struggle to make polite conversation? In her manner and comportment she seems quite an assertive and dominant character (shoulders back and spine straight). Why then does she endure this visitor sitting in silence in her front parlour? Wouldn't she just straight out and ask him why he's there? If she knows why he's there (she refers internally to a prepared speech), why doesn't she confront the issue head on? Why endure painfully protracted small talk which is only delaying the inevitable conflict?

One other very minor point. People talked more correctly in the past. It would have almost certainly been "May I offer you some tea?", not "Can I offer you some tea?" Always keep in mind the era for which you're writing dialogue, and make sure that it's appropriate.

It seems harsh, but I'm going to reject this because I think there's a lot more you could do with this scene. The writing is of a high standard, and you're much closer to intriguing an agent's interest than a rejection implies, but the bar is high. I think that "in the wild" this would be rejected with an encouraging note along the lines of "interesting but needs a little work – perhaps work with an editor?" or, "not right for us but please send us anything else you write".

Thanks for posting!
Sponsored by editorial.ie