This submission is a great example of a women's fiction opening, the first thousand words leading towards what is going to be (judging from the synopsis) the critical initiating event in the main character's story. Any flaws?
Title: Spiralling
Wordcount: 61000
Genre: Womens' Fiction
Language: British English
Synopsis: When her boyfriend refuses her marriage proposal, Laura crumbles. To reassemble her world, she must battle the Dublin dating scene, family upheavals and a work colleague out for sabotage. A chance encounter initiates a spiritual journey that unearths buried fears, forcing Laura to reconsider the real source of happiness.
Text:
On one of the biggest nights of her life, Laura stood in the middle of the glitzy Dublin bar. A row of oversized bulbs dropped low along the length of the counter, casting bubbles of golden light onto the sleek black surface. The venue attracted a clientele predisposed to gazing outwards, as if everyone was waiting for someone more interesting to come along. Overhead, raindrops tapped against the glass roof. It had rained steadily all day.
Laura stood surrounded by a semi-circle of friends, ignoring the conversations swirling around her. Clusters of Dermot's friends gathered in small groups, chatting over the heavy bass music, or bowing to their phones. Her eyes flitted around the room before returning to the phone suctioned in her clawed hand. 20:07. A flicker of annoyance crossed her face. 'Where are you?' she tapped.
Laura turned to her sister. 'Did you check on the cake?'
'Relax, it's in the kitchen.' Karen reached out and gave Laura's arm a grounding touch. 'Do you want a drink?'
Laura shook her head, fidgeting with her bracelet. 'I'll wait until he arrives, whenever that will be.'
'You need to chill out.'
Laura released a short, sharp exhale. 'I need to pee.'
'Come on, we can touch up your makeup before he gets here.'
The sisters faced each other, illuminated by the glaring lights of the bathroom's marble and chrome interior. Laura pulled at her dress; the silver sequins scratched at the skin beneath her armpits. It was a dramatic change from her usual Friday night attire of jeans and a black top. Karen had convinced her to buy it. Now she worried she was a decade too old for its cut and style.
'Let's start with your hair. Stay still.' Karen pinned Laura's hair into position. As children, they would creep into their mother's bedroom to borrow her foundation and lipstick. Even then, Karen had better hair and makeup skills. She dabbed a sponge into a powder compact. 'I can't remember the last time I was out in Dublin on a Friday night,' Karen said. 'It certainly beats negotiating bedtimes and collapsing onto the sofa in defeat.'
With her dark hair and brown eyes, Karen didn't look like her blue-eyed, fair-haired sister. Since their days growing up in Glendale, it was always Karen with the string of admirers. Although Laura was a year older, she often thought of her baby sister as the more mature one, having ticked the grown-up milestones of husband and children.
Karen dropped and plucked items from her kit like a surgeon in flow, while telling Laura about her recent experiment with a new recipe for fishcakes. Karen pushed the mascara brush back into its tube and took a step back to survey her work. 'That's the best I can do, given the raw materials I have to work with.'
Laura checked her appearance in the mirror, her eyelashes adjusting to the weight of another layer of black ink. She touched the small hole punch indentations at the edge of her cheekbone, a reminder of ignoring her mother's advice not to scratch at her chicken pox spots. 'I missed a call from Mum earlier. Were you talking to her today?'
'This morning. She asked me to light a candle for Daddy. Did you call her back?'
'No, I was about but then I got distracted.'
'You should have called her back.'
'Don't make me feel bad. I know what day it is. I just can't deal with anything else right now.'
'Nervous?' Karen asked.
Laura checked her phone. 'He's late. Why does he always have to be late?'
Karen scratched her neck. 'Look, I know this isn't the best time to bring this up, but are you absolutely sure about this?'
Laura took a tube of lipstick from her handbag, brushed it over her lips, then bared her teeth to the mirror, wiping a pink smudge off her front tooth. 'The party? He's going to love it.'
'Not the party. I'm talking about the proposal.'
'We've been living together for three years. It's a natural progression.'
'Are you sure he sees it that way?'
Laura snapped her clutch bag shut. 'What are you trying to say? Why are you trying to sow doubts in my mind?'
'It's just, shouldn't you have talked about it first, before doing it in public?'
'Dermot's the most extroverted person I know.'
'But why now?' Karen asked.
Laura pulled a paper towel from the dispenser and wiped her hands, pausing to look at the naked ring finger of her left hand. Recently, she felt like she had become a passive participant in her own life. No more living with the brakes on. 'Why not now? Why wait?'
Karen opened her mouth, then closed it again.
'Let's get back out there,' Laura said, eager to put an end to her sister's questions.
Karen adjusted the strap of Laura's dress. 'I thought you needed the loo?'
'I think it's gone back up.'
Laura had taken every possible precaution to warn people not to reveal the surprise party, but the hardest part was keeping the secrets herself. On more than one occasion, she had almost burst out with the truth. She couldn't wait to see the look on Dermot's face. But what she most looked forward to was waking up beside him tomorrow morning, just the two of them in their bubble world, planning the start of a new adventure. She imagined their post-mortem of the night's events, filling in the gaps each of them had missed, recounting funny exchanges, reliving the surprises. Then in the evening, they would sink into the sofa and nurse their hangovers while watching a movie, maybe ordering their usual from the Indian takeaway.
The light from her phone snapped her out of her reverie. It was a message from Dermot. 'I'm outside.'
Her heart jolted. 'He's here.' Laura walked briskly towards the entrance.
Dermot sauntered in, his assured body movements bisecting the two beefy bouncers as he shook a black umbrella. He waved as soon as he saw her. 'Hey, pixie.' Wisps of grey were starting to sprout at the temples of his tousled, black curly hair. Underneath his coat, he wore the new navy shirt she had gifted him that morning, the top button undone as usual.
Laura walked towards him. 'You're late.'
Editorial comment: Not much to say about this submission either, to be honest. No glaring faults but just a few tweaks you might want to think about to finally polish your submission:
"On one of the biggest nights of her life" – compared to what follows, which is fairly well-written fiction narrative and dialogue, this phrase is awfully clumsy "telling". It's pure narration, from you the author, whereas everything else about your opening few pages says close point of view, immersive fiction. It's up to you to show us that this is one of the biggest nights of her life, not just bluntly tell us in the first nine words of your book. I'm not exaggerating to say that some agents might see that first line and roll their eyes, and whether they continued to read on could be up to chance – not a risk you want to run needlessly.
Personal taste: you're trying a little too hard for me,  in the first few paragraphs ("the phone suctioned in her clawed hand" particularly sticks out for some reason). Try to avoid writing what might be called "purple prose", which isn't a cardinal sin but does come across as rather amateurish. (I really like "bowing to their phones." though. It is a kind of supplication, isn't it?)
'I'll wait until he arrives, whenever that will be.' – Think carefully about your contractions, especially in dialogue. Someone who says "I'll wait" would probably also say "whenever that'll be". Spelling out "that will be" sounds oddly formal in speech started with "I'll".
'No, I was about but then I got distracted.' – I wonder how many readers' brains artificially added the missing "to" in this sentence? Look, this isn't a cardinal sin either, but many believe it is worth getting the first few chapters thoroughly edited before submission to agents/publishers. It's not a question of artificially boosting your abilities, but just a matter of putting your best foot forward.

You might think, "Well, these are tiny details. Who cares?", but the fact remains that five other submissions that agent reads today won't have those minor flaws. Is it worth being among the "lesser" submissions? It's just a matter of playing the percentages. However, these are very minor details in what is otherwise a sound submission.

Thanks for posting!
Sponsored by editorial.ie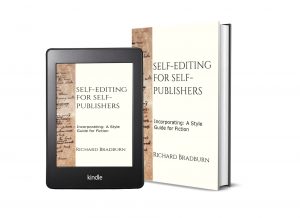 Available in ebook, paperback, hardback and large print editions to order from all major bookshops and online.