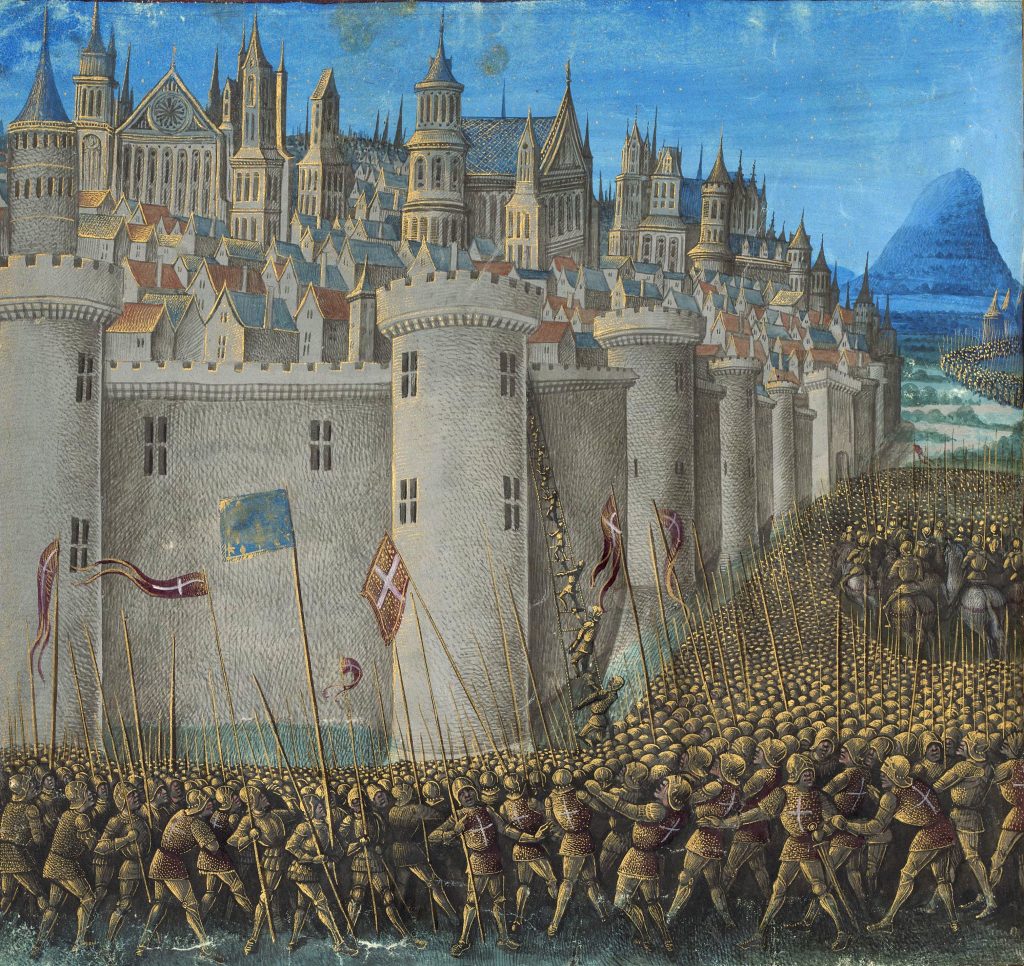 This is a really interesting take on the returning hero story, with some nice writing. Is it ready to be submitted to agents? Possibly not, but read on to see if you agree.
Title: The Book of Qaram
Wordcount: 35000
Genre: Fantasy
Language: British English
Synopsis: A princess who escaped the military coup that killed her parents as a child returns thirteen years later to conquer her homeland and avenge her family, only to find the city has prospered under the usurpers. To retain power, she must confront the dark secrets of her father's disastrous reign.
Text:
Open, said the Exile, and her home obliged
Break, said the Warrior, and the armies turned
Kneel, said the Princess, and the wall obeyed
Oral retelling, line 15-18, 'A History of Qaram Unathi I, the last queen of Essar'
"Lay down your spear, Qaram." Her grandfather waved away a fly on his bloody beard and squinted at the battlefield. "The wall has fallen and the Essari retreat."
Qaram squeezed the haft of her spear so tightly her fist trembled. She pushed the back spike deeper into earth made soft by morning dew, horse hooves, and, most importantly, blood. The grass was slippery with it, the air hot with the stench of an open wound. Qaram sucked a gust of it through her teeth and dared the sea breeze to carry it into the city, in through every shutter and under every cobble. She was home and they needed to know.
Sunrise crept up behind the white ringwall around the port city of Essar, casting a long shadow that reached all the way to her feet. In that shadow, some of the Essari soldiers boldly tried to keep formation against waves of howling mercenaries. Some scrambled towards the sea on the right, others, the pine forest to the left. Most fled towards the hole in the wall, large enough to row a galley through.
"My child," her grandfather almost pleaded, "these were once your father's men."
Her fingers flexed around her spear. Her father's men – and they had failed him. Exhaling, she lay both hands on the spear, leaned on it to sink it deeper.
"Qaram. They even throw down their banners, gods help them. Lay down your spear, accept their surrender."
"Not yet," she whispered.
Two blue-and-grey silk banners slid down the wall like quicksilver, only to be trampled by the retreating soldiers and armoured elephants dragging boulders away from the hole. In the archer tower above the hole, a priestess stood holding a ram's horn. Even at a distance, the brilliance of her robes was startling, but they were purple, making her a devotee of Sian – on an Essari battlefield, no less. The nerve!
At least the priestess that stood at Qaram's side was robed in pale grey, an enchanting contrast to her sun-rich skin. Valin had been an actual priestess in Essar once, and so rightfully wore the All-Mother's greys and silvers – though her breastplate was gleaming red leather, the colour of a dark and bitter apple polished to shining. Grime marred the hem of her robes, collected from brushing against the bodies they now literally stood amongst.
Two or three of them moaned, faces buried in the mud. All of them wore the appalling blue-and-grey uniform of the Bluesilk Coalition. One crawled all the way to Qaram and clawed ar her greave. His head lolled forward as he started weeping onto the top of her boot. The bottom half of his left shin was missing.
"Mercy," he sobbed.
That's the last thing I've brought you, Qaram thought, rolling the ivory bead that never left her mouth.
"Accepting surrender now would be wise," Valin said, fingering a silver chain woven into her black braid. Her voice was low and husky – textured like the earth between roots or wild honey. "If my soldiers' pursuit makes its way into the city, it will be a mess to secure it."
"And yet you are paid to secure it," Qaram said quietly, lest the priestess learn the full melodies that blended to make her voice.
It was the harmony of those melodies that had broken the wall. That she had to guard its power from curious ears was one reason why she had left the battle command to Valin's journeymen.
Valin coughed into her sleeve, revealing a left hand with the two end fingers missing. "The Essari will have an advantage inside."
"All the same. I need the citizens to see."
Someone threw a sunstone into a group of fleeing soldiers. The clay casing shattered, releasing a bright flash that swallowed up the screaming soldiers. Though it had exploded two archer's lengths away, the sea breeze brought Qaram a whiff of brimstone. If she wanted any chance in holding the city, the sheltered people of Essar needed to know the smell of war as well as who brought it.
"For the last time, Qaram – enough." Her grandfather stepped in front of her, blocking out the battlefield. He didn't dare touch the spear. "Put it down! Or at the very least spare him some mercy. These are your people too."
The soldier clinging to Qaram's boot gargled as he bled on her boot. Something internal too, then. His mouth was wet and red, shaped like the knife holes in her mother's naked body as the stallion dragged her along the throne room floor.
"Do you know this man?" she asked her grandfather.
"Give him mercy, Qaram."
"Do you know him?"
His nostrils flared as he brushed hair away from his dark face. "I do not."
"Of course you don't," Qaram said in that quiet way that was like the wind hissing. "He looks twenty – my age – and how old would that make him when we fled?" She cut her tone with an edge of mocking. "Exactly how long were we in exile, Great-Pa?"
There was not much to Ogel the Terrible. He was tall but hard years had worn him down to gristle over long bones. Still, he kept a furnace behind his hazel-wood eyes, one that could burn so hot it would blacken them to coals.
"Long enough to taste smoked gammon when we had to eat rats," he said in a rumbling voice. "Long enough to mourn your parents and far too long to dwell on the dream of seeing my home again."
"Look behind you and you'll stop dreaming."
"Look down and so will you."
Editorial comment: There's a lot to take in here, my goodness! You're a repeat offender on this site, so you know the drill—I'll only give submissions a gold star if I think they're perfect, ready to go to an agent or publisher. This isn't, but only by a very fine margin. It does need polishing, even though the standard of writing is very high. Let's go through these minor problems quickly:

I wasn't sure what a "back spike" was. I gather from context that it's a spike on the reverse end of a spear, but it made me pause while I wondered whether that was a mistake. Do you need to mention it? "She drove the spear into the ground" works. If you want to show off a detailed knowledge of medieval-era weapons (which is great for verisimilitude), then perhaps later in the story?

"dared the sea breeze to carry it into the city, in through every shutter and under every cobble" This is a bit confusing. I don't think "dared" is the right verb to use, and I don't understand how the scent can be "under" the cobbles? Are there tunnels? Is some of the city underground? If that is the case, then probably make mention of the tunnels specifically.

It might seem a bit picky, but "sunrise" doesn't creep up. It's the sun that rises.

"some of the Essari soldiers boldly tried to keep formation" This contradicts both what her grandfather said earlier, "the Essari retreat", and what follows, with you describing the soldiers fleeing in every direction.

I found it hard to visualise the banners being trampled, having slid down the wall, unless the battle is hard up against the city walls, and I didn't really understand the logistics of the armoured elephants dragging boulders away from the hole. Whose side are they on? Presumably Qaram's, since they're making the hole bigger. But if that's the case, how are the Essari fleeing through the hole if these elephants are trampling about with boulders?

"large enough to row a galley through" Because of the metaphor, I suddenly wondered whether this was a seawall (with the reference to the "port city"), and had to go back and check. It isn't, I gather, in which case perhaps use a land-based metaphor?

You don't need the word "literally" in "they now literally stood amongst".

Colour is obviously of great significance, but there is a lot of it, and all rather similar. There are the blue-grey banners, the purple robes of the enemy priestess, then the grey robe of Qaram's priestess, the All-Mothers "greys and silvers", and the blue-grey (again) uniforms of the Bluesilk Coalition. I'd distinguish Qaram's priestess with a different colour, or perhaps a specific motif or design, because all the greys, on both sides, got a bit confusing.

I'm not sure leather armour on the upper torso would be described as a "breastplate", would it? But I love the colour description "of a dark and bitter apple polished to shining". I would actually associate green with a bitter apple, but a really nice turn of phrase.

I'm also not sure about the logistics of having a voice-weapon whose nature you have to hide, even from your own followers. Surely the priestess heard what she did to reduce the wall to rubble, so why is Qaram trying to disguise her voice by whispering afterwards? That doesn't seem to make much sense.

What I did notice was a lot of detail. There's so much to take in, little details, such as the voice thing with Qaram, the significance of the spear (and the fact that her grandfather can't touch it), the flashback to her mother being dragged through the throne room by a horse (I'm not sure about "knife holes". I've not stabbed anyone, but as far as I understand it, a knife-wound can't really be described as a hole), Valin's hand missing two "end-fingers", the ivory bead that never leaves Qaram's mouth, the apparent potential duplicity of her priestess (because Qaram has to disguise her voice) and so on. We don't know what the significance of all these details is, so we try to memorise them all. There's a lot to take in. It promises an enthralling read and a detailed fantasy world to get immersed in, but straight out of the gate?

It's a really good piece, that needs some polishing. I'm really intrigued by the premise, incidentally. There are so many "dispossessed hero comes back to wrest his/her birthright from the tyrannical usurper" stories, but here the heroine comes back and actually, well, the land/city is getting on fine really, and it was maybe her own dispossessed father who was the tyrant. A really interesting twist on the returning hero story. There are also some delightful phrases, the apple I mentioned earlier, and the voice "low and husky – textured like the earth between roots or wild honey". This is really excellent writing (even if there should be a comma before the "or", otherwise it's the "earth between wild honey" 🙂 ).

Thanks for posting!