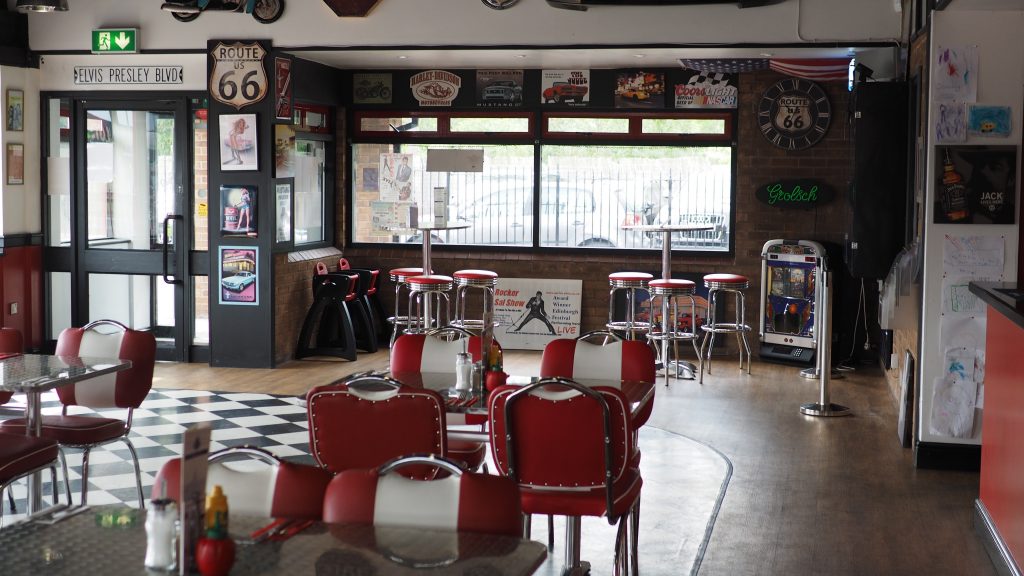 Here's a piece from a repeat Opening Lines offender. Third time lucky perhaps, or still more work to do?
Title: Every Last Piece
Wordcount: 80,000
Genre: YA
Language: Canadian English
Synopsis: The daughter of a drug-addicted rock star vows she'll never let another addict into her life again–until her childhood friend turned-drug user applies at her family diner, and she's forced to see him every day.
Text: It's been a quiet night, and I'm watching the Kit-Cat Clock tick its way to ten so I can close up. Refrigerators hum and the radiator rattles. Bluesy guitar riffs play from the old antenna radio, and I dab a sticky glob of maple syrup off the bar as I sing along.
When Mr. Wilson takes what looks to be his final sip of coffee, I zip across the restaurant and wipe off each table as I pass. "You all finished?"
He sets his mug next to a stain that's older than me. The fluorescent light from our OPEN sign brightens his wispy grey hair with red. "All good, Jillie. Let's settle up."
Tucker Wilson always has the evening special, a plate of poutine with a coffee. I never charge him for the caffeine. As he drops his change on the table and shrugs on his windbreaker, I hum and collect the dishes. He likes when I sing; most of our regulars do, and they're often my best audience. Quiet and attentive, respectful and kind. Much better than the rowdy bunch down at Carry's open mic.
"You graduated yet?" Mr. Wilson asks, his voice withered and strained. We had this conversation last week, but I still give him my best smile.
"Nope, not yet. This year, though."
"What about Nolan? Last time I saw him, he was as tall as me."
"Nolan's only thirteen, but he'll be in high school next year."
"What a good kid."
My cousin is a good kid, but Mr. Wilson's words send a pang through my chest. Though I'm graduating this year, it'll be a long time before I can leave Hyll. I don't want to think about what'll happen to Nolan if I abandon him in this place—his mom's a drunk and his dad's long gone. But my heart still twists every time, because I have dreams, too, and all of them involve a big city far, far away from here.
Mr. Wilson leaves, and I let out a content breath. The voices from Mom's TV grumble through the ceiling. Dee's Diner was the perfect package for us, an established restaurant with an apartment built upstairs so work's never far from home and home's never far from work. Mom hopped on buying it as soon as it went up four years ago. The too bad thing for me is, I have to check on my cousins at the trailer park before I can even think about going upstairs.
I'm drying my final load of dishes when the door dings. A breath of spring air wafts into the restaurant, swallowing the scent of maple and gravy with outdoorsy pine and snow. I turn to meet the reluctant eyes of Carson Blue. I blink twice to see if he's real, because he's never had any reason to come in here, not even for breakfast.
"Uh, hey Jill." He grips a piece of paper between his fingers.
"Blue." I dry my hands on a towel. "What's up?"
He averts his stare. Everyone calls him Blue, even though all he wears is red—every dishevelled sweater, plaid shirt, and backwards hat, always red. Tonight, he's dressed a little nicer, clean blue jeans and a new crimson hoodie. I know it's new because I see him every day in English class, and every day when he runs laps around the football field, and every day when he smokes cigarettes behind the school. I wonder why he bothers to stay in shape while he simultaneously kills himself with tobacco, but his life is none of my business.
Carson fidgets with the paper, and his eyes flit from the mucky tile floor to me. Note: wipe that before I go. "I saw the help wanted sign out front," he says. "Is your mom around?"
Disarmed, I chew on my reply. I never thought a guy like him would apply here. "She's not feeling good. If you have a resume, I can take it." He passes me the paper with a jittery arm, and I glance it over. It's unsurprisingly barren. "Says you baled hay out at the Stokes' farm. No restaurant experience?"
"No, but I'm hoping to get some."
"What's with the change of pace? I've never heard of you wanting a job before."
"Need something to focus on other than school, and my family's been a little broke since my dad, you know…"
I run my finger along the cool metal of my locket necklace. Everyone knows Carson's dad is in the clink.
"If not, I get it," he says.
"What?"
"You seem unsure. You always play with your necklace when you're nervous."
I almost laugh. When you've known someone since kindergarten, I guess you pick up on their habits. Carson and I have been in each other's classes since marbles were cool and alcohol was nasty. Now when I meet his stare, I can't help but picture him as the little kid who kissed me right on the lips in the seventh grade and ran away without a word. Under the grey autumn sky, we were talking about our Science project on the solar system next to the guys playing foursquare when boom. Out of nowhere, he kissed me.
I totally froze up. I mean, I was eleven. And I didn't like Carson like that. At least, I didn't know if I did or didn't because I still thought most boys were gross and Carson was Carson. The other guys laughed at him until he ran off, and our dynamic changed forever. It created a lot of prepubescent confusion on my part, and even five years later, we share an unspoken rule to never bring it up.
Carson was a quiet kid back then, but he always got in trouble for huffing glue behind the baseball diamond and skipping his homework. Now he snorts coke with Shae Evans and causes trouble with his idiot brothers. Some girls say he's the hottest guy in town, and even I can admit he has nice features: full eyelashes, brown hair shaved shorter at the sides, and a strong jawline. But I've always been immune.
Editorial comment: As Professor Higgins says in the old film My Fair Lady, "By Jove, I think she's got it". I really like this. It's light and pacy, but subtly complex. I like the little details dropped in unobtrusively, like the Kit-Kat Clock and the TV "grumbling through the ceiling". I think you slip over the dividing line between useful background and too much exposition with the three paragraphs at the very end of this extract—"I almost laugh" to "I've always been immune" is a bit too much of an info dump, I think—but by that stage I've pretty much decided that here's an accomplished storyteller with an engaging character from whom I want to hear more, as she plays with the "cool metal" of her locket necklace.
Well done, particularly for sticking at it.

Thanks for posting.